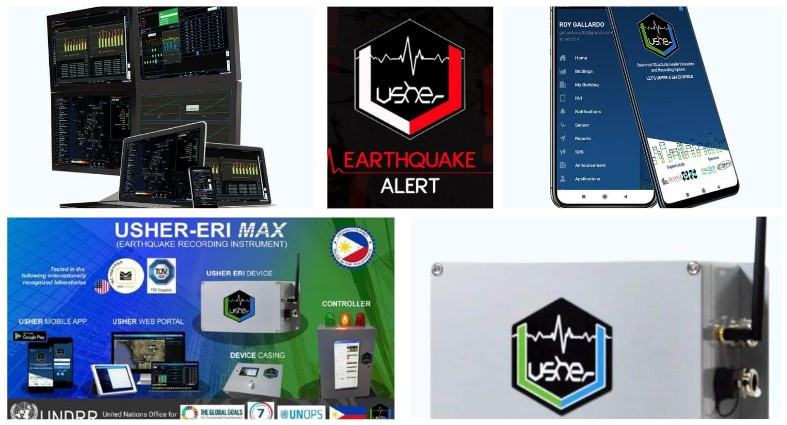 The first and only Filipino-made building structural health monitoring and sensor mesh system for earthquake detection and early warning won the 2023 Innovation Awards' one million pesos grant for further research to promote safety and resilience in the country amid destructive earthquakes that recently struck the world, including in Turkey and Syria.
The Universal Structural Health Evaluation and Recording System (USHER) is a building structural health monitoring system during earthquakes that can be used 24 hours, seven days a week. The system is composed of three components: an advanced accelerograph, a web portal system, and a mobile application.
The recognition from the Benita and Catalino Yap Foundation Inc. (BCYFI) Innovation Awards last February 2023 is the latest affirmation for the system developed by Dr. Francis Aldrine A. Uy of USHER Technologies, a spin-off company initially funded by the Department of Science and Technology and launched by Mapua University in 2019. A year later, the USHER System won the top spot at the United Nations Office for Project Services (UNOPS) Global Innovation Challenge, considered the Olympics for start-ups.
DOST describes USHER as an innovative solution to address disaster risk reduction and management initiatives of both the private and public sectors, especially government agencies and local government units to determine the structural integrity of public and private buildings.
This technology can be installed in public infrastructures like bridges, public and private buildings, and other critical structures, and will help engineers and building owners to regularly monitor the integrity, soundness, and performance of buildings and different structures under seismic and other geological events.
With USHER in place, disaster managers, LGU officials, and private enterprises can prepare their buildings and make necessary retrofitting, if necessary, to prevent economic loss as well as keep people safe when they are inside these buildings and structures.
The Philippines, which is located in the so-called Pacific Ring of Fire experiences a number of earthquakes every year with several faults scattered across regions in the country.
Dr. Uy stressed, in his recorded message about the Innovation Awards, that his work addresses the need to protect lives by protecting the structures that they populate, especially considering that earthquakes occur often in the country. Here is an excerpt from Dr. Uy's message as a finalist prior to his winning the award.
"I am Dr. Francis Uy the founder and CVO of USHER Technologies. In many parts of the world, a strong earthquake is IMMINENT. It's NOT a matter of IF but WHEN. The global annual cost of damage due to earthquake is 36 billion dollars. Imagine how much we can save and do with USHER. We are now monitoring 24/7 almost 60 buildings all over the country."
He further emphasized the importance of research to have practical applications that will benefit a great number of people and to become less vulnerable because of science.
"USHER is an amazing lifesaving and only Filipino-made structural health monitoring technology, the ECG Machine for buildings. USHER has a very inspiring story to tell, it is the real deal in successfully bringing a research product from a university lab to the industry and communities to ensure infrastructure safety and resilience. A BCYF recognition will further confirm the various recognitions we received and its reward will help us pursue our CSRs and R&D initiatives to promote safety and resilience in the country. Thank you BCYF and let us all USHER a safer and more resilient world."
DOST-Phivolcs had previously introduced web tools that mapped the Philippines' earthquake-prone areas and natural hazards. More recently, the agency partnered with state universities to improve disaster science communication with the help of communities.
Good News Pilipinas is a Lasallian Scholarum Awardee. TELL US your good news story tips by messaging GoodNewsPilipinas.com on Facebook, Twitter, Instagram, or e-mail editor@goodnewspilipinas.com and WATCH Good News Pilipinas TV YouTube & Good News Pilipinas TikTok for more Filipino Pride stories!
The post 1st Filipino-made monitoring system for earthquakes wins 1M grant appeared first on Good News Pilipinas.