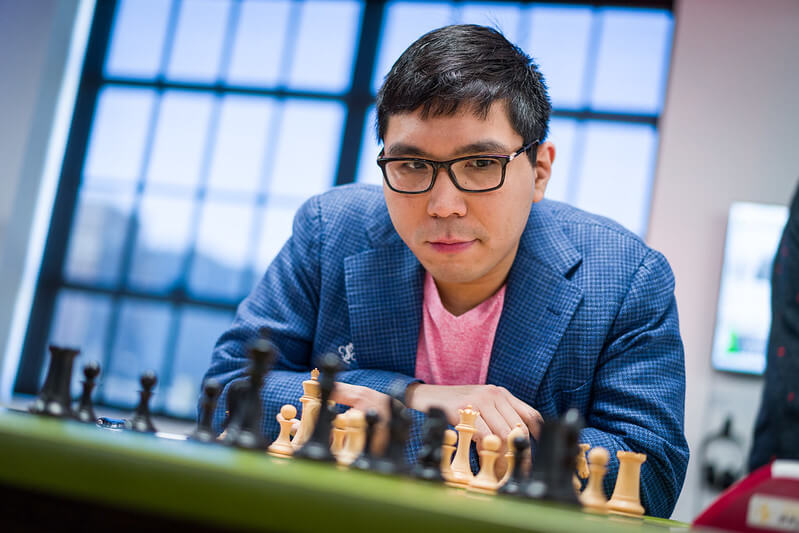 Wesley So is staying in the Champions' Bracket of the 2023 American Cup chess tournament at the World Chess Hall of Fame of the Saint Louis Chess Club after maintaining a no-losses scorecard in the first three days of the double-round knockout competition between the 8 best overall players living in the United States.
The Filipino American Grandmaster drew both matches against American GM Sam Shankland in the first round of two classical chess games before eventually subduing his opponent in the second of two rapid chess matches played on Day 2 of the tourney which runs until March 26, 2023, in St. Louis, Missouri, USA.
Wesley So, the three-time US Chess Champion who started his career in the Philippines, drew Game 1 of Day 3's Round 2 classical semifinal champion's bracket match against American Cup inaugural winner, defending champion Italian-American GM Fabiano Caruana.
Wesley So stays on the Champion's Bracket of #TheAmericanCup after 3 days of the chess tourney at the @STLChessClub @GMWesleySo123 STORY on @GoodNewsPinas_ https://t.co/EiZO6fNU17

— Angie Quadra-Balibay (@AngieQBalibay) March 20, 2023
Two-time Grand Chess Tour champion So and Caruana will meet again on Monday, March 20, for their 2nd game to determine the winner of the match who will face the victor of the other Champion's bracket pair of Japan-born GM Hikaru Nakamura and Cuban-American GM Leinier Dominguez in the finals of the Champion's Bracket.
The winner of the Champion's Bracket will meet the winner of the Elimination Bracket where defeated players of the Champion's Bracket matches end up in and continue to play for a chance to win the American Cup.
Wesley So is playing to win his second title this year after his victory at the World Chess Armageddon Championship Series: Americas leg held in Berlin, Germany, and earning a spot in the tournament's Grand Finale.
Wesley so is the current leader of the FIDE Circuit, the newest qualification path to the 2024 Candidates Tournament which decides the challenger for the World Championship match.
WATCH Wesley So play live in the American Cup here every day at 1:30 pm CDT (12:30 AM Philippine Standard Time) and SEND WELL WISHES in the comments below as Wesley So continues to play in the Champion's Bracket of the American Cup 2023!
Good News Pilipinas is a Lasallian Scholarum Awardee. TELL US your good news story tips by messaging GoodNewsPilipinas.com on Facebook, Twitter, Instagram, or e-mail editor@goodnewspilipinas.com and WATCH Good News Pilipinas TV YouTube & Good News Pilipinas TikTok for more Filipino Pride stories!
The post Wesley So stays in Champion's bracket at American Cup in St. Louis Chess Club appeared first on Good News Pilipinas.