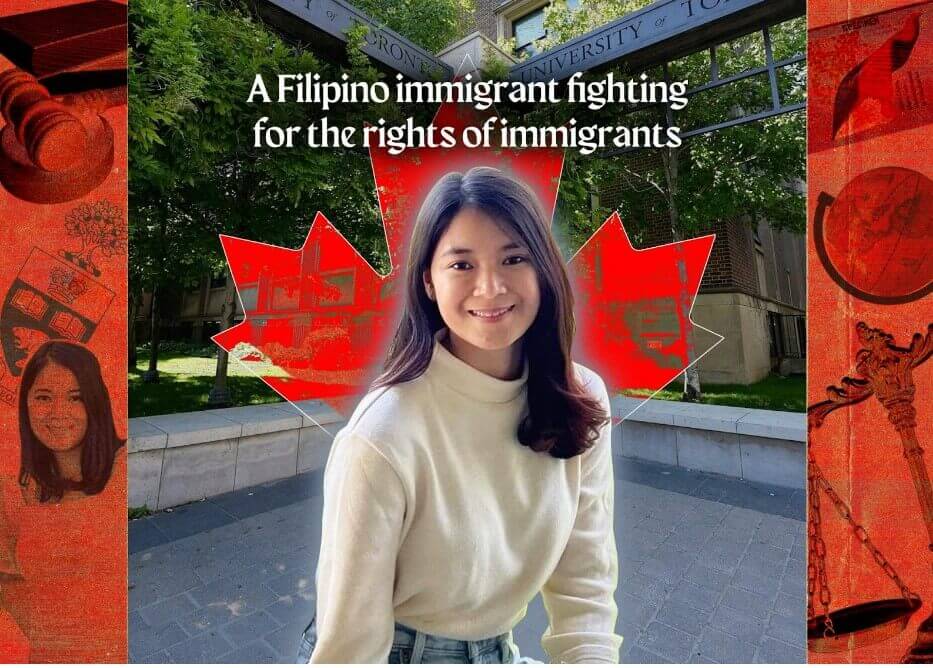 A young Filipina had already bought her Accountancy books for the following school year when her mother notified her that she will be migrating to Canada to become a permanent resident. With her luggage ready, she could not shake off the fear of leaving behind a life she built in the Philippines. New country, new university, new college program, and a new adventure – this is Gheneva Aleta's story from being an immigrant to now working with and for immigrants in Canada.
"I was always waiting for a remittance at home from my parents abroad until the day came that I went to Canada, and now I send help back to my country," shares Gheneva Aleta who thought this metaphor encapsulates her current life as an immigrant in Toronto, Canada. Her dad worked as a seafarer while her mother was a college professor, who then migrated to Canada when Gheneva was 13 years old. At the age of 18 and after completing her first year in Accountancy, Gheneva emigrated to Canada.
Gheneva, who initially intended to live a life as a CPA lawyer working in the Philippines, says, "It was all happening so fast." For Gheneva, the shift was challenging but ultimately worthwhile. "You have to persevere because you have to," she said.
Similar to Aleta's experience, who had less than a year to transition to the unexpected chapter of her life, it is normal to focus on oneself when one is perplexed. Regarding being from a developing nation and the incorporation of her accounting background into a political science degree in Canada, she said, "It was difficult to represent other people's struggles knowing that there will be prejudices towards my background as a Filipino." This makes it difficult to fight for the struggle of others when she was struggling to adapt to the new environment. This, however, led to a series of self-reflections regarding her immigration story which would turn into a lifelong goal of representing the underrepresented.
Why Gheneva works as an immigrant clerk for a law firm
Gheneva earned a Bachelor of Arts in Political Science with High Academic Distinction from the University of Toronto. Currently, Gheneva works as a full-time legal clerk for Bondy Immigration Law, a firm that handles immigration matters like refugee appeals on behalf of claimants in Canada. She also helps immigrants who want to seek permanent residency based on humanitarian and compassionate grounds.
Gheneva is aware of the difficulties associated with being an immigrant given the negative stereotypes of developing nations that still exist. Transferring from a local university to one in Canada was difficult because of differences in course accreditation standards and funding options at Canada's top university. While enrolled at UoT, she was eligible for a scholarship that assisted her in paying for her education.
She was raised by Filipinos who are known for their grit and tenacity, so she was well-equipped to turn these difficulties into a prosperous career while fighting for the rights of others. Gheneva said, "Understanding immigration in a different light has shown me that it is not just about economics, but is also a real problem for people, especially for those who fear persecution in their home countries."
Working with and for refugees
It is admirable that she uses her personal experiences to drive change for those who are in desperate need of a safe haven. "I've always wondered why Filipinos must migrate. Why can't we remain and prosper in our own nation?" She thought during the interview. Despite having a long list of certificates under her name, Gheneva's mother entered Canada as a caretaker. Being a caregiver is a valid occupation, so there is nothing wrong with it, but the inequalities among Filipinos entering Canada while having earned bachelor's or even master's degrees are troubling, she continued.
Gheneva helps immigrants settle in Canada in an effort to change the perception of these disparities and barriers to opportunity. The immigration law firm, on the other hand, places a high priority on immigrants from nations where there is war or conflict since they must leave their homes for reasons of safety. Gheneva focuses on the future of her work as a force for good and says, "Immigration does not end with filling out the forms; there is also the assimilation process." It is admirable that she is a change agent for those who are in desperate need of a safe place since her motivation is personal.
Immigrants are granted a second opportunity at a successful life away from the horrors of conflict and prejudice in their place of origin thanks to the efforts of her law firm. The stories of adversity might then be circulated as a call to action for organizations and global leaders to deal with them in a way that considers the entire society as agents of change. "These refugees commit themselves to Canada and we have protected them from the risk of persecution," says Gheneva, who also believes in the shared responsibility she has with the rest of the world. "This is where authorities and the UN, for example, address the conflicts in their home countries." she continued.
Immigration Law and the Sustainable Development Goals
The SDGs may initially seem impersonal, but according to Gheneva, a closer look reveals how they affect people's daily lives. Her request for action is direct. She quotes someone as saying, "You have to always think of inclusivity among diversity," which is appropriate given that Toronto is one of the most diversified cities in the world and has a sizable Filipino community. The difficulties she faced during her immigration process were worth it in Gheneva's opinion. As long as we never lose sight of where we've come from, there is hope, she says. Know that there are stories like Aleta's out there and that your journey is as necessary as it is motivational to others. This is for all the Filipino immigrants out there who are homesick, terrified, and unsure.
The SDGs push us toward a time when people of all racial, religious, age, and gender identities are accepted. While working on platforms to address difficulties alongside the least, the last, and the lost, your origin in the global south does not prevent you from having prospects for a better life. Be proud of your roots and spread the wonderful accomplishment that is being able to name yourself a Filipino since, like Gheneva, it never leaves you when you leave the country.
READ MORE from Qjiel Mariano here:
Qjiel Mariano is the newest Good News Pilipinas columnist. The York University Global Health student was selected to join the Clinton Global Initiative Class, awarded the George H.W. Bush Inspiration Honors, and named Education Hero by Youth Service America.
Good News Pilipinas is a Lasallian Scholarum Awardee. TELL US your good news story tips by messaging GoodNewsPilipinas.com on Facebook, Twitter, Instagram, or e-mail editor@goodnewspilipinas.com and WATCH Good News Pilipinas TV YouTube & Good News Pilipinas TikTok for more Filipino Pride stories!
The post From Filipino Immigrant to Immigrant Rights Defender: How Gheneva Brought Filipino Values to Canada appeared first on Good News Pilipinas.